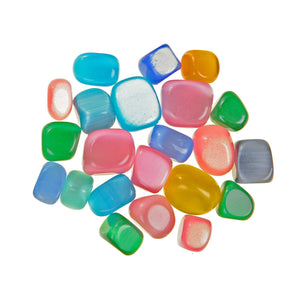 Cat's Eye - Tumbled
Regular price
$3.00
$0.00
Unit price
per
Cat's eye stone also gives the powers of strong determination to do things and is highly recommended for those having birth numbers 2 & 7, or those, who are governed by the planet moon.
Disclaimer:  Crystal healing and other types of energy work are not to be considered as a substitute or a replacement for traditional medical treatment.

If either you, or someone you know, has a serious health issue, you or they should consult their own doctor and/or other appropriate professional medical practitioner, and make complementary healing part of a complete health care program.
The information contained herein is metaphysical in nature and we do not claim crystals heal or cure, and should not be considered as a substitute for conventional medicine. 
*** We do claim that crystals can help with Mind, Body, and Soul Connection, as they are made of minerals that have energy and we are all made of energy. 
ORDER PROCESSING IS DAILY when shoppe is OPEN (Tuesday - thru Sunday)
Order Processing is happening daily during store hours.  We are now shipping 4 days a week on Mondays - for customer orders that arrive on Fridays and Saturdays)  Wednesdays (customer orders that arrive on Sundays thru Tuesdays), Fridays ( customer orders arriving on Wednesday and  Thursdays) and Saturdays (for customer orders arriving Friday by 6pm)
Tree of Life Shoppe 
392 West Apple Street, Suite 3
Ringtown, Pa 17967
570-741-3574 Land Line
 570-875-9328 (Text)
Email us at
treeoflifeshoppe@gmail.com
---
Share this Product
---