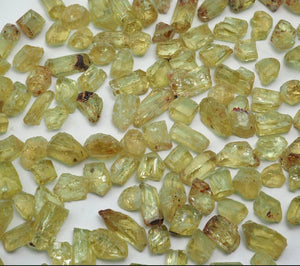 Golden Apatite - Specimens
Regular price
$20.00
$0.00
Unit price
per
Golden Apatite, also called Yellow Apatite, is one of the purest crystals of the Yellow Ray, the vibration of mental clarity, the strength of will, and manifestation.
It brings sunny, spiritual energy to the aura to inspire hope and passion for life. It instills in us a sense of self-worth and self-confidence. Golden Apatite assists both men and women in strengthening the masculine side of their personality by developing assertiveness and the courage to take risks. Golden Apatite combats apathy and helps us be more outgoing and optimistic, and increases our drive to get things done.
Golden Apatite is a stone of learning, enlarging our capacity to take in and process new information, especially information that helps in manifesting our dreams and desires. Golden Apatite helps us overcome fatigue, lethargy, and depression, lack of concentration, and inefficient learning. It can help combat Chronic Fatigue Syndrome.
Golden Apatite is particularly useful in starting new ventures. It supports creative ideas and helps brings them into reality. It helps us to develop the business skills needed to make a living from our passions. It provides us with the courage to take risks, and the clarity to know which risks are worth taking.
Please reference picture as an example of the product. All stones will vary based on its natural occurring shape, color and variation given by mother earth.
Disclaimer:  Crystal healing and other types of energy work are not to be considered as a substitute or a replacement for traditional medical treatment.

If either you, or someone you know, has a serious health issue, you or they should consult their own doctor and/or other appropriate professional medical practitioner, and make complementary healing part of a complete health care program.
The information contained herein is metaphysical in nature and we do not claim crystals heal or cure, and should not be considered as a substitute for conventional medicine. 
*** We do claim that crystals can help with Mind, Body, and Soul Connection, as they are made of minerals that have energy and we are all made of energy. 
ORDER PROCESSING IS DAILY when shoppe is OPEN (Tuesday - thru Sunday)
Order Processing is happening daily during store hours.  We are now shipping 4 days a week on Mondays - for customer orders that arrive on Fridays and Saturdays)  Wednesdays (customer orders that arrive on Sundays thru Tuesdays), Fridays ( customer orders arriving on Wednesday and  Thursdays) and Saturdays (for customer orders arriving Friday by 6pm)
Tree of Life Shoppe 
392 West Apple Street, Suite 3
Ringtown, Pa 17967
570-741-3574 Land Line
 570-875-9328 (Text)
Email us at
treeoflifeshoppe@gmail.com
---
Share this Product
---