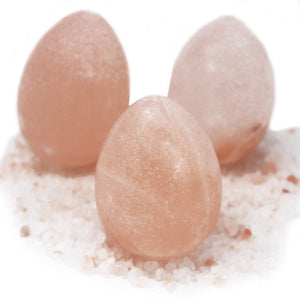 Himalayan Salt Egg / Massage / Deodorant Stone
Regular price
$6.50
$0.00
Unit price
per
Enhance your massage services with Himalayan Salt! The TheraTools® Himalayan Salt Egg-Shaped Massage Tool is carved to fit into your hands ergonomically and provide an extension to your current techniques. Salt stones can be used either hot or cold and will last a long time when kept away from water and treated with proper care. All stones have broad, flat surfaces—great for effleurage over large muscle groups. Uniquely designed to provide specific pressure to muscle groups when using the curves of the stones. Can be used for hand and foot reflexology. Coconut oil is recommended for proper glide with the stones. To clean, wipe with an Alcohol Wipes between uses. Himalayan crystal salt is sourced from the Himalayan mountain range near Pakistan and includes 84 trace minerals and elements. 3" H x 2" W
These Natural deodorants are not processed in any way except they are carved from natural chunks of Himalayas Crystals. The deodorant stone leaves a layer of protection that helps prevent odour causing bacteria from forming.

Himalayan Salt has a rich mineral content that includes over 84 minerals and trace elements such as calcium, magnesium, potassium, copper and iron.
You can use Himalayan salt deodorant for a chemical-free alternative to commercial deodorants. You can wet it and use it as a regular deodorant bar to provide an invisible layer of salt to deter odours. Sea salt is known for its stimulating and soothing properties.

Himalayan Salt Deodorant Stones can be used in a variety of ways, can be frozen to give a cooling sensation or heated and applied to any area of the body for a nice warming sensation or even used as a massage stone to get deep relaxation and improving sleep quality, helping the relaxation to the body as the stones gently draw toxins from the skin while soothing tense, sore muscles.
ORDER PROCESSING IS DAILY when shoppe is OPEN (Tuesday - thru Sunday)
Order Processing is happening daily during store hours.  We are now shipping 4 days a week on Mondays - for customer orders that arrive on Fridays and Saturdays)  Wednesdays (customer orders that arrive on Sundays thru Tuesdays), Fridays ( customer orders arriving on Wednesday and  Thursdays) and Saturdays (for customer orders arriving Friday by 6pm)
Tree of Life Shoppe 
392 West Apple Street, Suite 3
Ringtown, Pa 17967
570-741-3574 Land Line
 570-875-9328 (Text)
Email us at
treeoflifeshoppe@gmail.com
---
Share this Product
---