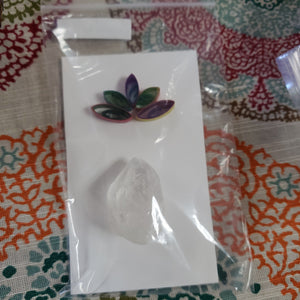 Quartz Tibetan Point with Lotus Card
Regular price
$10.00
Sale price
$13.00
Unit price
per
Tibetan Quartz is famous for its powers of protection and purification.

It is said to clear and expand the aura, raising the vibrations so the physical body can attune to it's light body. It expands psychic abilities, and is said to vibrationally give out the sacred Om sound of the universe, when placed over the third eye.
Tibetan Quartz is good for protection from negativity and in meditation is said to connect you to the wisdom of the monks of Tibet. It has a reputation as one of the most powerful stones of spiritual protection known to us. Carrying one of these double terminated pieces is said to create a "bubble of Light" around the body, allowing only positive vibrations to permeate the auric field. Carrying one of these crystals is also said to bring about a total centering of oneself.
ORDER PROCESSING IS DAILY when shoppe is OPEN (Tuesday - thru Sunday)
Order Processing is happening daily during store hours.  We are now shipping 4 days a week on Mondays - for customer orders that arrive on Fridays and Saturdays)  Wednesdays (customer orders that arrive on Sundays thru Tuesdays), Fridays ( customer orders arriving on Wednesday and  Thursdays) and Saturdays (for customer orders arriving Friday by 6pm)
Tree of Life Shoppe 
392 West Apple Street, Suite 3
Ringtown, Pa 17967
570-741-3574 Land Line
 570-875-9328 (Text)
Email us at
treeoflifeshoppe@gmail.com
---
Share this Product
---