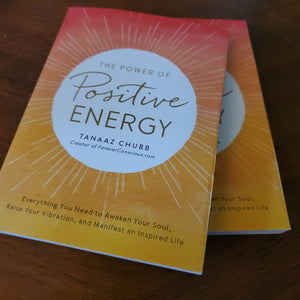 The Power Of Positive Energy
Regular price
$14.99
Sale price
$15.99
Unit price
per
Positive energy creates positive outcomes. But how do you get the good vibes going? It all comes down to understanding and embracing the innate and energetic power of your soul.

With the guidance of Tanaaz Chubb, creator of ForeverConscious.com, you will begin a journey that will give rise to an understanding of your soul's energy and its connection to the Universal energy all around us. You will free yourself from negativity, fears, and the parts of your life that are no longer serving you. You will tune into the powerful vibrations that allow you to live your life to the fullest potential. Tanaaz shares the secrets to awakening positivity through introspective and inspiring meditations, writing prompts, and exercises including:
-Ten-Minute Soul Connection Meditation
-Switching a Negative Thought for a Positive One
-Identifying Your Self-Limiting Beliefs
-A Positive Energy Cleanse
-Releasing the Past

It's time to tune into the positive vibrations that exist within you, and around you. You can rise above negative influences, reclaim your power, and manifest a life that is easy, joyous, and inspired!
ORDER PROCESSING IS DAILY when shoppe is OPEN (Tuesday - thru Sunday)
Order Processing is happening daily during store hours.  We are now shipping 4 days a week on Mondays - for customer orders that arrive on Fridays and Saturdays)  Wednesdays (customer orders that arrive on Sundays thru Tuesdays), Fridays ( customer orders arriving on Wednesday and  Thursdays) and Saturdays (for customer orders arriving Friday by 6pm)
Tree of Life Shoppe 
392 West Apple Street, Suite 3
Ringtown, Pa 17967
570-741-3574 Land Line
 570-875-9328 (Text)
Email us at
treeoflifeshoppe@gmail.com
---
Share this Product
---