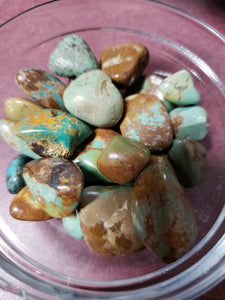 Turquoise (Green/Blue) - Tumbled ( Small)
Regular price
$5.00
$0.00
Unit price
per
Turquoise is a purification stone. It dispels negative energy and can be worn to protect against outside influences or pollutants in the atmosphere. Turquoise balances and aligns all the chakras, stabilizing mood swings and instilling inner calm. It is excellent for depression and exhaustion, it also has the power to prevent panic attacks. Turquoise promotes self-realization and assists creative problem solving. It is a symbol of friendship, and stimulates romantic love.
Turquoise aids in the absorption of nutrients, enhances the immune system, stimulates the regeneration of tissue, and heals the whole body. It contains anti-inflammatory and detoxifying effects, and alleviates cramps and pain. Turquoise purifies lungs, soothes and clears sore throats, and heals the eyes, including cataracts. It neutralizes over acidity, benefits rheumatism, gout, stomach problems, and viral infections.
Disclaimer:  Crystal healing and other types of energy work are not to be considered as a substitute or a replacement for traditional medical treatment.

If either you, or someone you know, has a serious health issue, you or they should consult their own doctor and/or other appropriate professional medical practitioner, and make complementary healing part of a complete health care program.
The information contained herein is metaphysical in nature and we do not claim crystals heal or cure, and should not be considered as a substitute for conventional medicine. 
*** We do claim that crystals can help with Mind, Body, and Soul Connection, as they are made of minerals that have energy and we are all made of energy. 
ORDER PROCESSING IS DAILY when shoppe is OPEN (Tuesday - thru Sunday)
Order Processing is happening daily during store hours.  We are now shipping 4 days a week on Mondays - for customer orders that arrive on Fridays and Saturdays)  Wednesdays (customer orders that arrive on Sundays thru Tuesdays), Fridays ( customer orders arriving on Wednesday and  Thursdays) and Saturdays (for customer orders arriving Friday by 6pm)
Tree of Life Shoppe 
392 West Apple Street, Suite 3
Ringtown, Pa 17967
570-741-3574 Land Line
 570-875-9328 (Text)
Email us at
treeoflifeshoppe@gmail.com
---
Share this Product
---